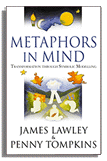 First published in Rapport, journal of the Association for NLP (UK),
Issue 50, Winter 2000


---
REVIEW OF:
Metaphors in Mind: Transformation through Symbolic Modelling
by James Lawley and Penny Tompkins
ISBN 978-0-9538751-0-8 published by The Developing Company Press, 2000
---
I've read a lot of NLP books over the last eight years, many of them very good. However, few of the recent ones seem to me to add significantly to the field. Metaphors in Mind is a rare exception. Many of you will know that Penny and James have spent a large part of their time over the last five years in exploring and modelling the work of David Grove, an American-based therapist. In this work they have trodden squarely in the footsteps of the modelling of Fritz Perls, Virginia Satir and Milton Erickson that led to the foundation of NLP. And they have gone beyond their modelling to construct both a therapeutic model and to open new doors to the understanding of subjective experience.
The book is addressed to therapists of any persuasion who are interested in knowing more about engaging with the metaphors of their clients' language. The underlying methodology that Penny and James use and describe here is that of 'Grovian Clean Language' and the book includes a complete introduction, primer and lots of example of its use.
The book is in five main parts: 'Background Knowledge', which sets the context for thinking in terms of metaphors, both in establishing the terminology and setting the work in relation to other writers in this area; 'The Heart of Symbolic Modelling', which introduced Clean Language; 'The five-Stage Process', describing the process they and their clients use; 'In Conclusion', looks briefly at applications of Clean Language in non-therapeutic settings (I can see a few more books in the offing here); and lastly three 'Annotated Transcripts' of client sessions (two of these are used extensively to illustrate the main body of the book, it's good to be able to see them here in their entirety).
I see this as a major work, both in extending the field we know as NLP and, more broadly as a contribution to the whole field of talking therapy. Whilst Penny and James have drawn deeply on NLP methodology in their modelling the resulting work is relevant to any 'talking therapy' that acknowledges the inner processes of the client. Maybe here is another one of the stepping stones that are linking NLP to the developing fields of cognitive therapy and cognitive psychology. I hope so.
You will have gathered that I recommend this book to you.
© 2000 Bob Janes