2. Common Vectors used in a Symbolic Modelling

Change

Process
'Stages 1-5' below refer to The Five Stage Process described in detail in
Metaphors in Mind
.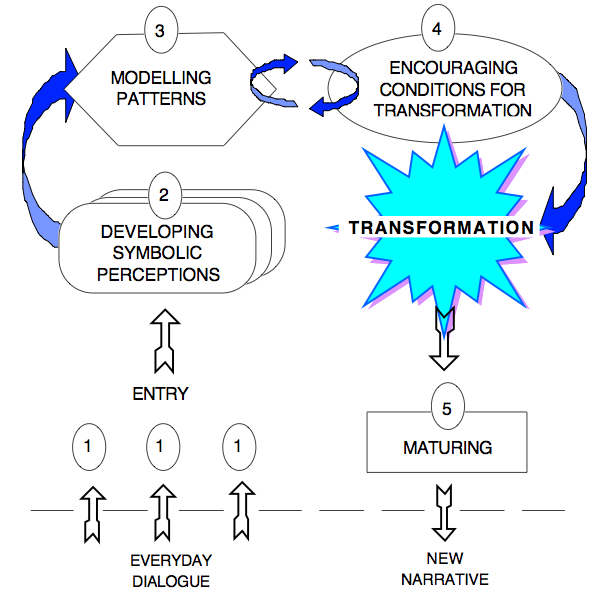 STAGE 1 ENTRY
Clean start (set up)*
Identify a desied Ouctome statement
*
From a map (drawing) into space
STAGE 2 DEVELOP SYMBOLIC PERCEPTIONS
Develop a desired Outcome Landscape
*
Identify Outcome achievement evidence / criteria
Select from multiple desired Outcomes
Develop a landscape which includes Resource's, Explanations, Problems and Remedy's

- Developing a Resource
- Sourcing a Resource
- Finding what's problematic about the Problem
- Developing a Remedy

General Developing Vectors

- Feeling to metaphor
- Embodying a perception / Encouraging psychoactivity
- Going live

STAGE 3 MODEL PATTERNS
Model the patterns and logic within and across perceptions

- Explore the effects/ecology of desired Outcome on the wider system
*
- Identify a sequence
- Elicit causality
- Test logic of Explanations
- When the Remedy is the Problem
- Incompatible desired outcomes (e.g. Problem binds)
STAGE 4 ENCOURAGE CONDITIONS FOR CHANGE
Make use of the 7 Approaches

- Concentrating attention
- Attending to wholes
- Broaden attention
- Lengthening Attention
- Identifying conditions necessary for change *
- Introducing Resources
- Attending to Adjacency
STAGE 5 MATURE CHANGES
When a Change occurs, mature it *
Evaluate progress by reviewing against actual outcomes

Clean finish *
Assignments
Note:
Because Symbolic Modelling is a modelling-based process, none of the vectors used are about the facilitator having an outcome to make a change happen.