6. Drawings of embodied schema in the transcript
Exercise 4b
. The following are
our
models of the embodied schema inferred in the transcript in Exercise 4a. The section numbers refer to the way we divided up the transcript in our answer to Exercise 4a given above.
[NOTE: There lots of other ways to identify and represented the embodied schema
].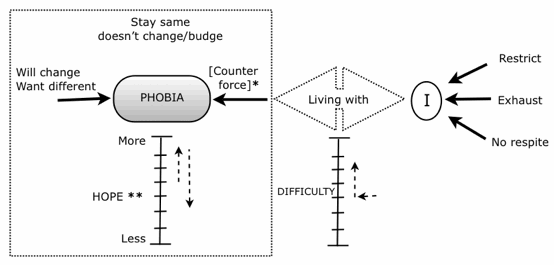 Sections 1 - 9


*    'Counterforce' is inferred—we do not have client's words for what is keeping the phobia from changing.
**    'Despair' and 'Desperate' both mean 'loss of hope'.
 


Section 10



 


Sections 10-11



 


Section 12



 


Section 13



 


Section 14



 




Section 15






Section 16



 


Section 17



NOTE:
The sequence is not complete because the client must have some way of becoming "OK" again — in order for the whole cycle to repeat.