Caitlin Walker has produced a set of training DVDs (2007)

An Introduction to Clean Language
and Systemic Modelling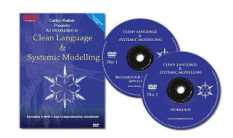 OUT OF PRINT

"Whether you are a beginner to Systemic Modelling or an experienced

practitioner you will find Caitlin's DVD contains guidance
to support your learning
and creative thinking
galore
."


Penny Tompkins and James Lawley, co-authors of

Metaphors in Mind
Clean Language questions
, modelled from the work of David Grove, are used to explore the way we use metaphor in speech and thought.  At their simplest, Clean Language questions can be used to clarify meaning and communication.  More powerfully, they can be used to help clients access powerful metaphors for peak states, and deal with issues by exploring and changing unhelpful metaphors.
Systemic Modelling

takes the use of Clean Language into group settings.  In years of using David's work, Caitlin Walker has applied 'Clean' approaches in a variety of settings, including work with disaffected teenagers, senior management, team building, recruitment and retention, diversity training, helping long term unemployed into sustainable work, to name but a few.  In that time, Caitlin has modelled out the practical skills needed by a facilitator to apply Clean Language processes successfully in both 1-1 work and group settings.
This DVD set

is a distillation of Caitlin's experience.  It presents simple exercises for personal awareness and skill development, and for the practice of Clean Language and Systemic Modelling in any group setting: on trainings, in schools, business teams, communities — or just for fun.
The set is designed for

interested beginners, or people familiar with clean questions who want to practise developing themselves and others. The set contains explanations, guided exercises, a workbook, and footage of a live training where you can watch others going through the exercises.

---
Caitlin Walker

Caitlin Walker
is a director of Clean Learning and the developer of Systemic Modelling™. She is the author of From Contempt to Curiosity, which details many of the innovative and transformational projects she's led across our community from the most dispossessed to leading think tanks.