First published on www.cleanlanguage.co.uk 12 April 2010

Modelling Robert Dilts Modelling
James Lawley
and Penny Tompkins
Summary
This report describes both the
product
of our modelling of Robert Dilts and the
process
by which we arrived at our model: 'Selecting what is Essential'.
The report is unusual in three ways:
It provides nine video clips and a complete interview transcript, as well as other source material.
It shows how we use Symbolic Modelling as a modelling methodology (rather than as a therapy/coaching process).
It documents step-by-step how we constructed our model: gathering, selecting and organising information through the observation, interview and review stages.

Our hope is that by seeing how the information builds up and is organised through a number of iterations you will get a better sense of both our model of how Robert models, and our approach to modelling.
Acknowledgments

We are able to publish this report and the video clips because of the permission and generosity of Robert Dilts of
NLP University
; Fran Burgess and Derek Jackson of the
Northern School of NLP
; and Martin Snoddon of the Conflict Resource Trauma Centre (CTRC) and Northern Spring. Our appreciation also goes to Phil Swallow for video editing and web site support.
Contents

We have organised this report into twelve separate web pages as listed below. If you would like to view the whole report in one go click 'Print-friendly page' near the top of the right hand column.
1.   Background

2.   Overview of how we modelled Robert Dilts

3.   First iteration: Modelling from observation

4.   Second iteration: Modelling in the moment

5.   Third iteration: Modelling from recordings

6.   Comments on our methodology

Appendix – Source Material:
7.   Sample transcript of Robert Dilts modelling Martin Snoddon

8.   Copy of Robert Dilts' modelling notes [to be added]

9.   Robert Dilts' model of 'Healing from the Heart'

10. Full transcript of our interview with Robert Dilts

11. List of questions we asked

12. Example of modelling from a transcript

1. Background
The material in this report has been produced and developed at three times.
Northern School of NLP, December 2006
Fran Burgess and Derek Jackson of The Northern School of NLP in England have long had a vision of 'modelling the modellers'. As part of that vision they invited Robert Dilts to a special two-day workshop where he modelled an exemplar for the first day and presented his model to the group on the next day.
On December 6-7, 2006 about 60 people attended the two-day modelling fest. The unique format for the two days was designed by Fran and Derek:
Day 1
- Robert Dilts interviews Martin Snoddon (the exemplar) for 3 x 40-minute sessions
  while the group observes
- In between, Robert comments on his modelling process and answers questions
- The participants compare their observations

Day 2
- Robert presents his model and facilitates one of the participants to acquire it
- We use Symbolic Modelling to model Roberts for 40 minutes and present a
  first-pass model to the group
- Fran Burgess models Robert for 40 minutes

NLP Conference, November 2007
The following year we decided to present our model of Robert modelling to the November 2007
NLP Conference
in London organised by Jo Hogg. To prepare for that presentation we reviewed the recodings of the original event, updated and documented our model, and packaged it for a 3-hour presentation. The main focus of the presentation was the
product
of our modelling of Robert.
Publication on the Web, April 2010
We have eventually bowed to requests to publish our methodology – the
process
by which we arrived at our model. This report contains our model of Robert and the stages and iterations we went through to construct it. Therefore you get both:
Our model of how Robert Dilts selects what is essential when he is modelling

and
Our model of how we conducted this modelling project

While lots of models and techniques have been created in NLP, there is still very little about how those models were created. Our aim is to redress that balance, and to take you through an in-depth study into model creation and construction, and to some extent, acquisition.
Robert Dilts - our exemplar
Robert Dilts was one of the original group who, under the leadership of Richard Bandler and John Grinder in Santa Cruz, California in the early 1970s, started coding the processes that were to become Neuro Linguistic Programming. Robert has kept modelling at the core of his work ever since. He is the author of a number of seminal books that chart the development of NLP over the last 35 years. (See
nlpu.com
for a full biography and bibliography.) It was our privilege to model Robert because of our great admiration for him, and for the contribution he has made to the field of NLP.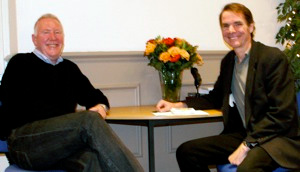 Martin Snoddon and Robert Dilts at the Northern School of NLP
Martin Snoddon - Robert's exemplar

Martin Snoddon runs the charity Conflict and Trauma Resource Centre (CTRC) in Belfast, and his own organisation, Northern Spring. He was chosen as an exemplar because of his background and special talents:
Martin has spent the last 20 years working tirelessly to resolve conflict and heal trauma in Northern Ireland.
His skills and expertise are in demand in conflict areas across the world, e.g. Kosovo, Palestine, Haiti.
He works across all communities and religious denominations, with ex-paramilitaries, members of the security forces, non-governmental organisations and groups, and with individual victims of conflict.
He had consistently demonstrated an ablity to work with groups who have violently opposed each other, facilitating them to engage in peaceful negotiations and reconciliation.
Our experience as modellers
Our modelling of Robert Dilts was the latest in a long line of modelling projects starting in 1992 when Penny modelled how highly creative people knew they had a good idea, and James modelled the internal state of Spiritual Healers while healing.
Our first large-scale project was modelling David Grove, a counselling psychologist who developed Clean Language and specialised in working with his clients' autogenic metaphors. This took us four years and culminated in the publication of our book in 2000,
Metaphors in Mind: Transformation through Symbolic Modelling
. After that we continued to model David's numerous innovations until his death in 2008. It was quite a learning experience to model such a creative exemplar for 13 years.


In addition to our modelling of David Grove we have published the results of several shorter-term modelling projects related to our work. For example:
We have also undertaken a number of commercial modelling projects, including:

Project managers of pharmaceutical clinical trials

Managers who support their staff's professional development

The meeting process of a Food and Drug Administration committee (USA)
And in
Modelling the Written Word
we describe ten ways we have applied our modelling skills to printed text.
Currently, we are collaborating in modelling the work of the late Dutch environmentalist, Stefan Ouboter. Stefan used 'clean' principles to devise a method, 'Modelling Shared Reality', for sampling the views of key individuals across multiple organisations and communities.
[ADDED NOTE: The result of this project was published in the Journal of the Netherlands Association for Qualitative Research, Kwalon Vol 3, October 2012 and is available in English at cleanlanguage.co.uk/articles/articles/328/]
As psychotherapists we use Symbolic Modelling as our main methodology, which means we model the individual perceptual landscape of each client. This, and our continued involvement in medium and large-scale projects means modelling has become a part of our daily lives.
Naturally our approach has been influenced by our training in modelling, in particular with Richard Bandler, Judith DeLozier, Robert Dilts and Todd Epstein, Charles Faulkner, John Grinder, David Gordon and Graham Dawes, and John McWhirter. We are indebted for their groundbreaking work.
Having since taught modelling to many groups we have distilled our experience into a set of notes:
How to do a Modelling Project
.
Symbolic Modelling - an outline
For those unfamiliar with our work, here is the briefest of outlines. Symbolic Modelling is an outcome-orientated methodology made up of three components: modelling, metaphor and David Grove's Clean Language.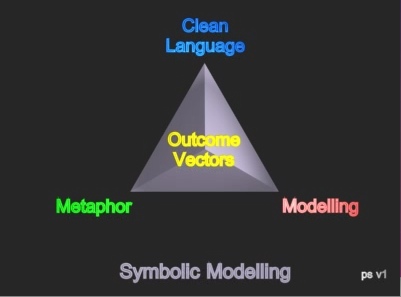 The Components of Symbolic Modelling
While Symbolic Modelling is often used as a therapeutic or coaching process it can also be used for modelling of excellence, all manner of interviews (police, research, job, defining specifications, etc.) and a variety of
other applications
in business, education and health.
A symbolic modeller pays particular attention to a person's verbal and nonverbal metaphors. By using Clean Language questions to direct a person's attention to particular aspects of their experience a 4-dimensional model of their internal perceptual world (a metaphor landscape) emerges. As the person discovers information (self-models) they reveal it to the symbolic modeller who then updates the model they are creating and uses it to decide what question to ask next.
Symbolic Modelling is a bottom-up, iterative process. It is based on the premise that the organisation of our mind is inherently metaphoric and this influences the decisions we take and the way we live our life.
We have written a number of
introductory articles
about Symbolic Modelling which are available our web site.
Types of modelling
This report, including the video clips, show two (of the many) ways to model – Robert's (sometimes called Analytic Modelling) and ours (Symbolic Modelling). There are many similarities and overlaps between the two; and there are two main differences:
What the modeller pays attention to
How the modeller facilitates the exemplar to describe what they do.

For more on the theory and practice of these two methods see Robert Dilts' Modeling with NLP, and our Metaphors in Mind:

Please note, these are only two out of a number of modelling methodologies within and outside of NLP. They all have their merits and their limitations. Our advice is to become as proficient as you can in as many of them as you are able, and to use whichever methodology best seems to fit the circumstances in which you are modelling.

[ADDED NOTE: A list of a dozen methodologies we are familiar with is available in Section 10 of How to do a Modelling Project.]

For an explanation of the NLP terms used in this report, and especially those used by Robert during his interview with us, see the online version of the Encyclopedia of Systemic NLP and NLP New Coding by Robert Dilts and Judith DeLozier.
Acquisition

Throughout the report we have included some 'Acquisition Hints' to help you acquire a model of Robert modelling. And, we hope that by following how we gathered the information and organised it over a number of iterations you will also be acquiring our bottom-up approach to modelling.