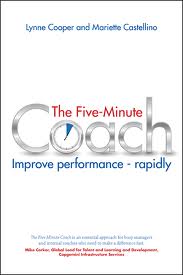 Order the paperback from:
Anglo-American Books
or the Kindle ebook from
Crown house

The Five-Minute Coach offers a simple, step by step guide to how to coach – quickly and effortlessly – to get amazingly better results at work. Short, punchy and easy to read, the user can swiftly learn this innovative and effective tool for improving performance.

Designed for leaders, managers and supervisors, in any setting, The Five Minute Coach is a groundbreaking approach to coaching on the job. It creates significant performance improvements, whilst improving job satisfaction for manager and team member alike. This approach to coaching has been developed by the authors and used in organisations across the board – large and small, private and public, with adults and teens, and across a variety of voluntary and community groups. Professional coaches have also adopted the The Five Minute Coach in their work.

The book leads the reader through this deceptively simple process using Clean Language which changes thinking about how to work with others. Leaders no longer need to have all the answers. They benefit from true delegation. They uncover the talent and resources of others. They free up time for themselves – time to think strategically and to be more proactive, creative and innovative. With its focus on outcome thinking, effective action planning and motivating people to take action, the book offers clear steps, practical examples and tips. It all adds up to a very practical way to improve performance.

---
Foreword by Penny Tompkins and James Lawley
The Five-Minute Coach: Improve performance – rapidly
Lynne Cooper and Mariette Castellino
David Grove – the originator of Clean Language – would have liked
The Five-Minute Coach
. It is true to his clean philosophy and his commitment for change to originate within the individual.
When David Grove turned his extraordinary mind to applying 'clean' to coaching he inevitably came up with a novel approach. David recognised that the coachee's problem was often reinforced by their straight-line thinking. He therefore devised approaches which facilitated the coachee to meander through the space between where they were and where they wanted to be. Rather than going straight for what they wanted sometimes it was preferable to first step backwards, sideways, upwards or downwards in order to see things from a different perspective and move forward from a different place.
David's great contribution was to devise processes that enabled people to discover how to do this entirely from within their own resources. This requires an extraordinary respect for the integrity of the coachee's information. Clean Language is so called because it actively keeps the coach from being tempted to help, rescue, solve, reframe or by some other means to do it for the coachee. Instead changes emerge. They occur spontaneously within the coachee's mind and body without them having to try to make anything happen – often to their great surprise.
Lynne Cooper and Mariette Castellino have taken ten Clean Language questions and artfully molded them into
The Five-Minute Coach
, an easily learnable procedure that can be used to solve problems, achieve outcomes or stimulate creativity. It does not require the coach to be clever, wise, unconditionally loving or to be in control. Rather it is more like a midwife that supports the coachee to birth new ideas, new perspectives and new ways of being in the world.
The Five-Minute Coach is a very clearly written 'how to' book. Lynne and Mariette's extensive experience as facilitators of individuals and groups underpins the explanations, examples and exercises. We strongly recommend you use this book to learn the method exactly as Lynne and Mariette have so carefully described. Then we recommend you use it over and over. By adhering to the procedure you will free yourself from having to make many decisions, especially those best left to the coachee. Then you can be more present to notice the subtle cues that enable expert coaches to work so successfully with the rhythm and uniqueness of each individual.
Lynne and Mariette are exemplary exponents of their craft and there is much to learn from them. Whether you make
The Five-Minute Coach
your coaching method of choice or you use it as an add-on to your existing way of coaching you will be astounded by the results. And you'll make even more of a contribution if you integrate clean questions into your everyday conversations so that asking them becomes a natural way of supporting people to trust their own counsel. It is only then that you will discover the true value of this book.
Penny Tompkins and James Lawley
Waxahachie, Texas
1 January 2012

You can
read an article
by Lynne Cooper about The Five-Minute Coach process