Articles by this Author
Book From Contempt to Curiosity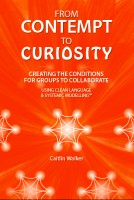 The book is a series of stories from Caitlin Walker's first meeting with David Grove to the development of Clean Modelling for groups and contains the principles and models underpinning Systemic Modelling. It's as relevant to business leaders as it is to parents, to organisational development as it is to creating learning communities.
3 Simple Steps for Better Meetings
Meetings can be the bane of a project; taking up time, causing conflict, achieving little. How often have you listened to people complain about meetings at work? Meetings can also be the boon of a project; co-inspirational, a chance to air and dispel fears, a time to rehearse the next steps and share great practice and get the support you need to work at your best. What would it be like to look forward to meetings knowing you had a tool to navigate more successfully through them?
DVD Intro to Clean Langanuage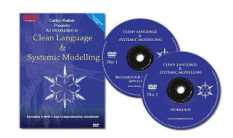 An Introduction to Clean Language & Systemic Modelling
A DVD and workbook by Caitlin Walker.
Exercises for personal awareness and skill development in Clean Language and Systemic Modelling in any group setting: trainings, schools, business teams, communities or just for fun.
You can

from Anglo American Books