Learning from Transcripts
The two main ways we use transcripts as a professional development tool are: Supervisory feedback to coaches and therapist; and Modelling experienced facilitators. We show you how we do this with an annotated example of each kind of transcript.


Interview-Clean Language and Symbolic Modelling in Psychotherapy
Interview with Penny Tompkins and James Lawley conducted in Moscow, September 2016 about their use of Clean Language and Symbolic Modelling in psychotherapy.

Macabre Metaphors
How do you work with clients whose behaviour and language can unsettle even experienced therapists and coaches? This case study shows how Symbolic Modelling and Clean Language respectfully utilizes the client's macabre metaphors; giving them the time and space to take full responsibility for their own healing, changes and recovery.

When science and spirituality have a beer - a video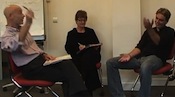 A 45 minute video of a full Symbolic Modelling demonstration on an Xtrema training in October 2010 in Paris. You can listen in English or French, or both. The session starts with the conflict between the client's science and spiritual sides and progresses to a spontaneous denouement.
Role of Metaphor in Recovery from Trauma
Due to emotional sensitivities, traumatized individuals will often (unwittingly) choose metaphors in place of literal language to describe their traumatic experiences evident in post-traumatic stress disorder (PTSD). We can help individuals recover from traumatic events by learning to communicate with them using metaphorical language.

Figurative Language Examined: Metaphors, Symbols and Related Concepts
Metaphors, symbols, metonymy, simile, emblems, images, analogies and icons; what difference does it make for the therapist to recognise these variations?
Here are some definitions and a chance to recover the original definitions and reintroduce the reader to the special variances of figurative language.